If you are Vietnamese, you can't help but know about spring rolls. This is an indispensable dish on the table of Vietnamese people during Tet to spring. And now spring rolls are cooked a lot in family meals. Spring rolls is a familiar name for people in the South. This dish will be called fried spring rolls in the North and in the Central will call it Ram. In each region, people will process spring rolls in many different styles with many different flavors. Coming to each region across the country, diners will enjoy different flavors of spring rolls, imbued with the cultural identity of each region.
Traditional spring rolls include lean ground meat, beansprouts, carrots, shiitake mushrooms, vermicelli, wood ear mushrooms and eggs. The filling is finely chopped, mixed and wrapped beautifully on the outside of the rice paper. The delicious taste, the balance of flavors have created the uniqueness of this dish. The spring rolls are evenly fried. As soon as we take a bite, we can feel the crispy, slightly salty taste of rice paper. Sweet, ripe vegetables inside. All have created a distinct overall taste, only available in Vietnamese cuisine.
Over time, spring rolls were modified with a combination of many new fillings and the shape of the roll was also broken. Not just pork spring rolls, you can replace it with beef or make seafood filling, which is also very delicious. You can add cheese filling to create an extraordinary breakthrough for the dish. And vegetarian spring rolls are also a perfect choice for modern life. Spring rolls, a dish full of sophistication, skillfully combined ingredients. Created a brand of spring rolls that cannot be confused with any national cuisine. Here, we will make this spring roll dish together at home.
Ingredients:
Lean minced meat: 350g
Pork fat: 150g
Carrots: 150g
Tapioca (beans): 150g
Vermicelli: 150g
Taro: 150g
Head of green onion, red onion, garlic
Dried cat mushrooms: 10gr
Chicken eggs: 1 egg
Fried onions (can be fried at home or bought from outside)
Rice paper used to roll spring rolls (2-3 volumes)
Ground pepper, sesame oil, sugar, oyster sauce, mayonnaise, seasoning, monosodium glutamate, salt.
Instructions:
Step 1: Prepare the Meat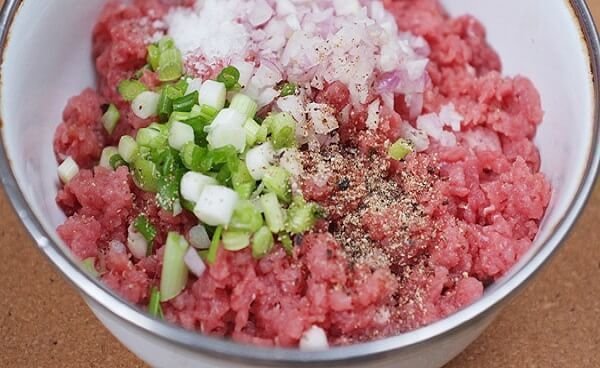 You use a little onion head washed and finely chopped.
Add a little garlic, red onion peeled, washed, smashed and minced.
Lean meat and fat you buy, wash and dry before you mince the meat. When the meat is drained, you chop the meat to make it easy to mince, add a little onion, red onion, minced garlic with 1 teaspoon of pepper, minced with the meat.
Meat should be minced at home. Although it is a bit laborious, it creates a better taste than when you grind the meat outside.
Then, you also mince 150g of fat and add to the spring rolls to help keep the spring rolls from drying out. If you do not like to eat fat, you can always use 500g of lean ham.
Step 2: Prepare the Spring Rolls
Use 10 grams of dried black fungus, soaked in water to create bloom. After the mushrooms have been soaked. You will wash it with water, dry it and then cut it finely.
Add the chopped mushrooms to the minced meat. Add 3 tablespoons fried onion, 2 tablespoons sesame oil, 1 tablespoon sugar, ½ tablespoon oyster sauce, 1/3 tablespoon mayonnaise to create fat for the dish. Add 1 tablespoon seasoning, 1 tablespoon MSG, ½ teaspoon salt. Mix well to infuse the flavors evenly.
If you love Gỏi Cuốn Thịt Nướng – Grilled Beef Spring Rolls, please check and Order Here. Thank You!
Step 3: Prepare the Remaining Vegetables
Use 150g peeled carrots then grate. Then squeeze out the water.
Use 150g of cassava roots, cut the fibers through boiling water and also squeeze out the water.
Use 350g of taro, peeled, grated and lightly fried through the shredded taro. Dry frying through the surface of the potato is okay. No need to fry for too long, it will be dry when making the spring roll filling.
All ingredients must be squeezed when adding to the mix. The processing kernel must be dry to avoid water leakage when rolling.
Step 4: Mix the Spring Rolls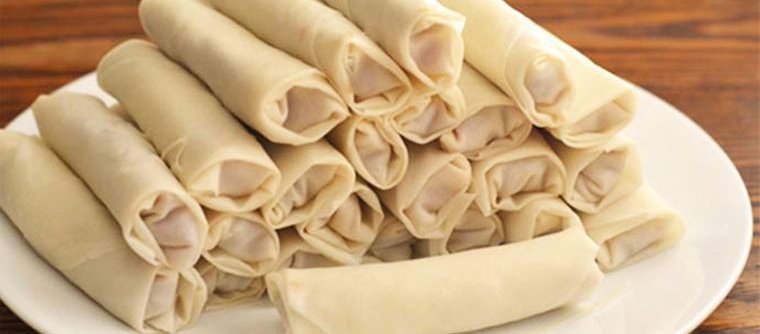 Pour carrots, cassava roots, taro, vermicelli, chopped green onions and 1 chicken egg into the prepared filling above. Stir the mixture evenly. If you do not put eggs in the filling, the taste of the dish will be lost.
Step 5: Roll Spring Rolls
Put a little spring roll filling on the surface of the rice paper. Then roll it up by hand. When rolling spring rolls, you should note that you should not roll too tightly. Because when frying the filling, the crickets will leak out. Put the right amount on the rice paper. Roll evenly and lightly.
Roll all the prepared fillings, then we will put the spring rolls in the refrigerator for 30 minutes before frying. The purpose of this is to keep the crust crispy for longer.
Pho 777 Restaurant is serving delicious Gỏi Cuốn Gà Nướng – Grilled Chicken Spring Rolls. If you love this dish, you can Order Here. Thank You!
Step 6: Make the Dipping Sauce
Use 1/2 tbsp seeded minced chili, 1.5 tbsp lemon juice, 2 tbsp sugar, and 3 tbsp fish sauce.
Put the sugar in a bowl with the lemon juice. Add half a cup of boiling water to dissolve the sugar. Add fish sauce and chili together. Stir well and you have finished the dipping sauce. You can add sweet and salty depending on the taste of the dipping sauce.
Step 7: Fry the Spring Rolls
Put the pan on the stove, add cooking oil, add a little more, cover the spring rolls. Wait until the oil is hot, then drop each piece in. Fry on medium heat until spring rolls are evenly cooked. Do not fry with high heat because spring rolls are easy to burn.
Fry until the surface is golden brown, place on absorbent paper to drain off the fat. So your spring rolls are done. Eaten when just finished frying, dipping with fish sauce will be very delicious.
With the recipe for making spring rolls, hope you can successfully make this dish at home for the whole family to enjoy.